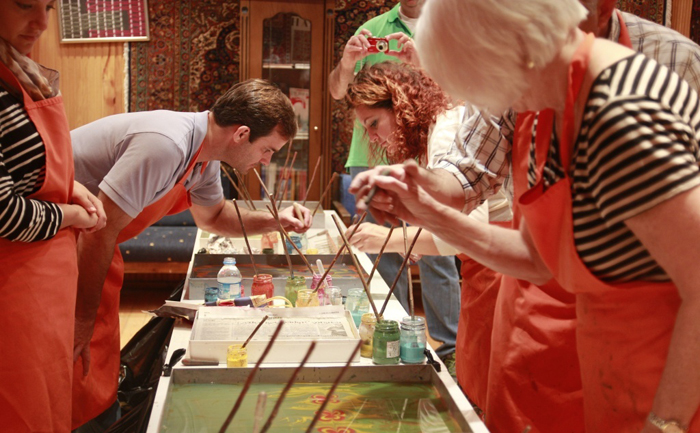 Turkish Marbling Ebru Workshops In Istanbul
Turkish Marbling – Ebru Lessons in Istanbul.
Turkish Paper marbling is a method of aqueous surface design, which can produce patterns similar to marble or other stone, hence the name. The patterns are the result of color floated on either plain water or a viscous solution known as size, and then carefully transferred to a sheet of paper (or other surfaces such as fabric). In Ebru art, you can draw flower figures that are traditional from the Ottoman period BUT the things that you can capable of using Ebru art is unlimited. All you need is your imagination.
Marbling is the art of creating colorful patterns sprinkling and brushing color pigments on a pan of oily water and then transforming this pattern to paper. The special tools of the trade are brushes of horsehair bound to straight rose twigs, a deep tray made of unknotted pinewood, natural earth pigments, cattle gall and tragacanth. It is believed to be invented in the thirteenth century Turkistan. This decorative art then spread to China, India and Persia and Anatolia. Seljuk and Ottoman calligraphers and artists used marbling to decorate books, imperial decrees, official correspondence and documents.
LEARN the secrets of creating the rich patterns of handmade marble paper .
EXPERIENCE the sensuous flow of Ottoman Marble ( Ebru ).
CONTEMPORARY create design fabric marbling paper technique designs on paper, glass or on silk fabrics .
Our teachers are local Turkish Artisans and have experience in teaching.
Our Artists are Professional in Marbling – Ebru Art & Local Artisans.
** If you have any interest of learning Classical Ottoman Marble, joining a workshop or ordering a special Turkish Marble Art Work from our teacheri please call us or send us an e-mail to get more information and to get a meeting..
Contact : Mr. Alp AKSAHIN ( Phone : +90 544 220 10 22 )
Here is our adres : http://www.bazaarturkey.com/contact_us1.htm
Google Maps : http://g.co/maps/4yxya
Les Arts Turcs – Art Gallery & Studio
Alemdar Mah Incili Çavus Sok.
No: 19 Floor : 3 (Behind The Underground Cistern)
Sultanahmet 34400
Istanbul, Turkey