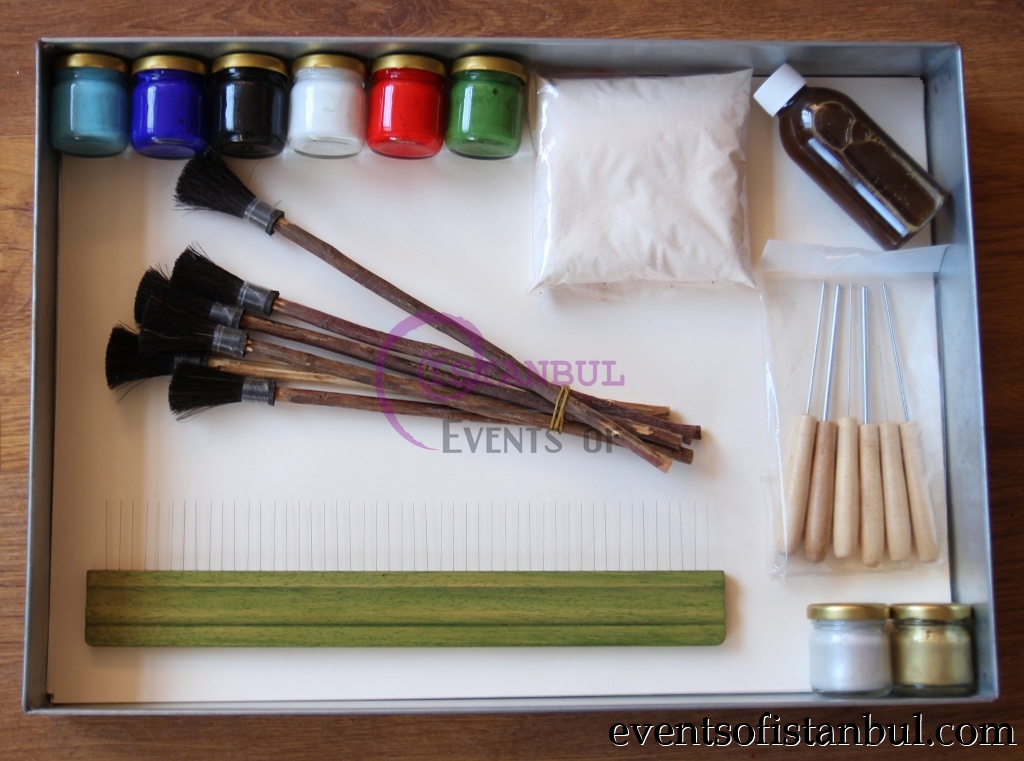 Turkish Marbling Ebru Art Set and Materials
Turkish Marbling Ebru Art Set and Materials. Professional Turkish Marbling Set for online purchase
In here, you can buy our own made professional art set online and we can ship it to your country with express shipping using DHL to your door. Shipping cost will be added according to your address. We can provide you all the ebru marbling art supplies.
The cost of our set is 150 Euro + Shipping cost.
For orders, please contact us ;
00905442201022 and info@eventsofistanbul.com
You can also visit our art studio to purchase our set on site and join our Ebru Marbling Art lessons.
Materials in our Ebru Art Set
Gum tragacanth – Dye – Paintbrush – Basin – Water – Paper – Gall – Comb
Metal Ebru Marbling Tank
Ebru Water Powder ( Tragacanth )
Ox Gall
6 set of Natural Ebru Dyes ( Paste & Concentrate Dyes )
6 pieces of Natural Brushes ( Rose Wood & Horse Tail )
30pcs. Of Ebru Paper.
5 Pieces of Biz Set ( Used for drawing on water )
Normal Comb //
Optional – Extra
There is Long Comb ( 20 Euro )
Peacock Comb ( 25 Euro ) that can be used for different techniques.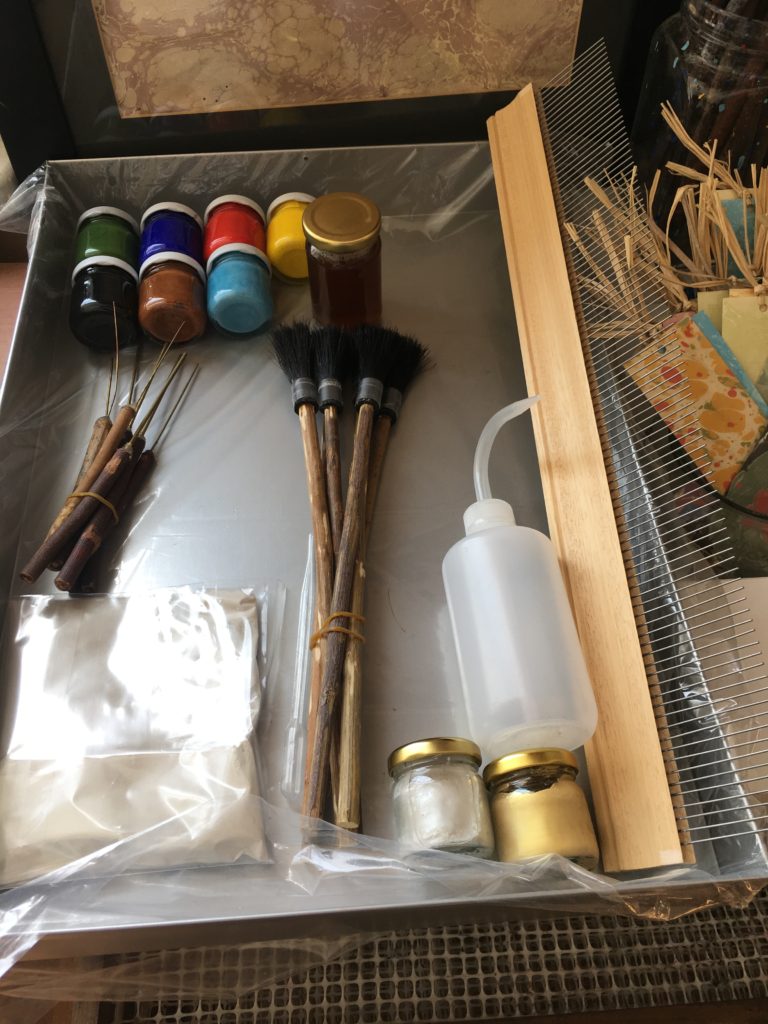 1. Basin: The liquid used for ebru is placed in a basin that is the same size as the paper being used. Traditionally the basins were made of unknotted pine, but now they are made of many types of wood, as well as metal. These are shallow containers, only 4-6 centimeters in depth.
2. Gum tragacanth: This is a white substance obtained from the plants of the Astragalus family common to Turkey, Iran, the Caucasus region and Afghanistan. This is a glue-like substance that gives the water used a degree of viscosity. To prepare it, tragacanth is soaked for two days in water. The preparation is filtered to ensure there are no undissolved particles remaining. The strained liquid is then put into the shallow vessel used for the dyeing process.
3. Gall: This is the key ingredient to ebru. Ox bile is boiled to prevent spoiling, and it is used to lower the viscosity of the base liquid and enable the paint to disperse evenly across the water. Without gall, the colors simply sink to the bottom of the basin. It prevents the dyes from bleeding into each other, and it helps the dyes adhere to the paper. The gall is also used the artist to mix different shades of the same color.
4. Dyes: Only natural dyes are used in ebru. These earth-based dyes, containing metal oxides, are crushed with a pestle on a marble slab until reduced to a fine powder. The dyes are placed in separate glass jars and mixed with a small amount of water.
5. Brushes: The brushes that are traditionally used in ebru are made from horsehair and rose branches. The brushes are made in different thicknesses and lengths for easier control of the paint.
6. Paper: The paper used must not be lacquered or polished in any way. The best paper is handmade, acid-free and absorbent.
7. Water: The water used must have very low levels of calcium, chlorine and lime. Distilled water is ideal for ebru.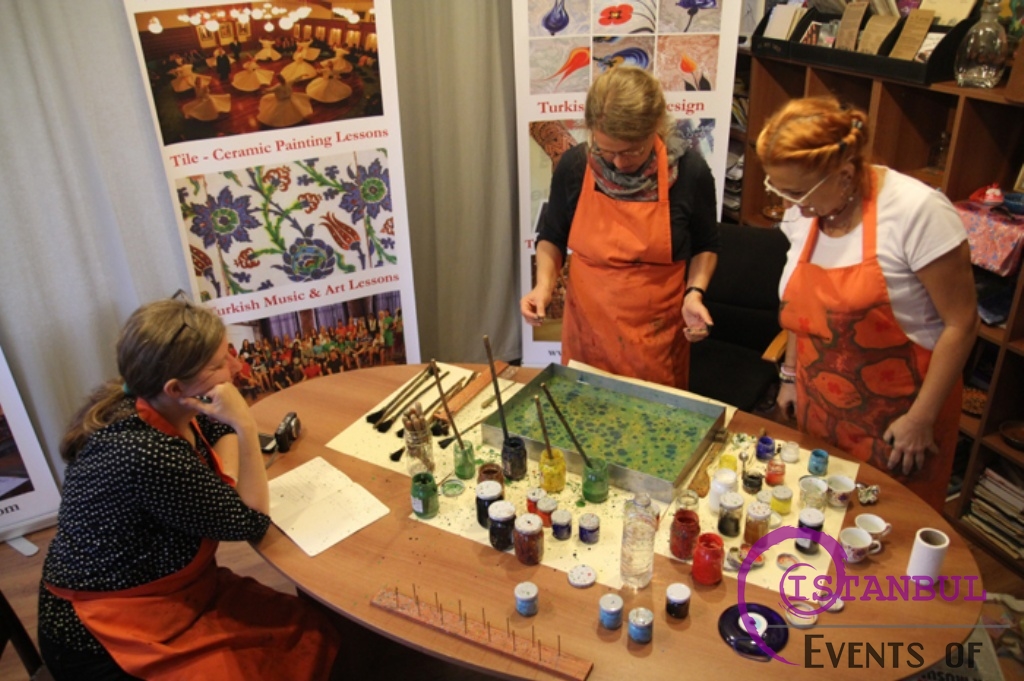 Turkish Marbling Ebru Lessons Workshops In Istanbul
Here is our Address ;
Google Maps : https://goo.gl/maps/uXuyRmELZsx
Events of Istanbul – Les Arts Turcs Art Studio
Alemdar Mh. Incili Cavus St.
No: 19 Floor : 3 (Behind The Underground Cistern)
Sultanahmet 34110
Istanbul, Turkey
Contact : Mr. Alp or Mr. Nurdogan ( Phone : +90 544 220 10 22 )
E-mail : info@eventsofistanbul.com
TURKISH MARBLING, EBRU
Marbled paper, called ebru in Turkish, was used extensively in the binding of books and within the calligraphic panels in Turkey. The existing word ebre in Eastern Turkish, meaning variegated, points to the fact that marbling might have been known the populations of Central Asia. Its origin might ultimately hark back to China, where a document from the T'ang dynasty (618-907) mentions a process of coloring paper on water with five hues. In the early examples from the 16th c. in the Ottoman-Turkish era, ebru appears in the battal (stone) form, namely without any manipulation. Interestingly, several variations developed in time, giving us types such as gelgit, tarakli, hatip, bülbül yuvasi, çiçekli (respectively come-and-go, combed, preacher, nightingale's nest, flowered, etc.) An attempt has been made here to show some of its principal patterns, with samples the master marblers of this century chosen from our collection.
Ebru technique consists of sprinkling colours containing a few drops of ox-gall on to the surface of the bath sized with kitre (gum tragacanth) in a trough. By carefully laying the paper over the bath, the floating picture on top of it is readily transferred to the paper; thus, each ebru is a one of a kind print. To obtain beautiful ebru results, one needs to have a light hand, refined taste, and an open mind to the unexpected patterns forming on the water. Patience and a good knowledge of traditional culture are characteristic of ebru masters.
After the 1550's, booklovers in Europe prized ebru, which came to be known as 'Turkish papers'. Many specimens in their collections and in the several album amicorum books are visible today in various museums. Also, early texts dealing with ebru, such as "Discourse on decorating paper in the Turkish manner", published in 1664 Athanasius Kircher in Rome, helped to disseminate the knowledge of this kind of marbling art. There is agreement amongst scholars that the so-called Turkish Papers played a colourful influence on the book arts in Europe.